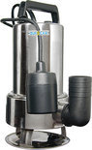 A sump pump is usually an electric pump that is placed in the basement of a home, and used to pump water from the basement to outside the home. Sometimes sump pumps drain the water into the house's drainage pipe system, and sometimes they simply pump the water outside.
Sump pumps can be useful, particularly as a precaution, in almost any area. When rain comes and the soil around your home's foundation gets wet, that water can leak into the basement. And even just an inch or so of water on the basement floor can do extensive damage that's quite expensive as well, particularly if you have a finished basement with furniture in it.
We offer a variety of sump pumps.